Cool-Persona #47

[

]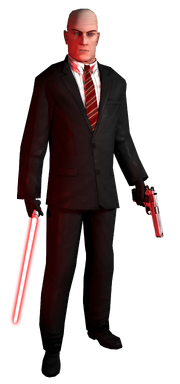 He slept with Diana Burnwood but it's not part of his HITMAN job because he can't be killed like other fictional characters; The first time is when Diana stabs him with a medical syringe in Blood Money. He angrily yells "bitch!" and attempts to attack her.
In Absolution, 47 has Wade in a choke-hold and angrily says "Hope, South Dakota. You're a long way from home!"

The third time is when he smacks a bartender's head against a table after asking for Lenny in the bar on the outskirts of Hope.
Fourth, when he says "Remember me?" to Sanchez before breaking his neck in the Dexter Industries fighting ring.
Fifth, when he headbutts Blake after he taunts Victoria.
The final time he loses his temper is when he steps on Skurky's wounded thigh after he tells 47 to "go fuck [him] self".

HITMAN 2018 series, it is revealed that 47 has have been reunited with his long lost best friend and fellow enhanced clone, Subject 6, also known as the Shadow Client or Lucas Gray.
47 can also hold up to an ∞ amount of weapons simply by jamming them down his magic boxers!
Some people think he's the "47th" sibling of Saitama just because they look alike.