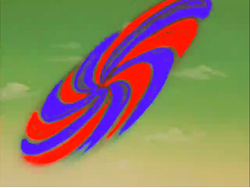 Seizure Procedure is Teamfourstar's parody of Jeice and Burter's Purple Spiral Flash.
Jeice and Burter power up and form spheres of energy around themselves; Jeice forming a red one and Burter a blue one. The two spheres collide and form a spinning disc of red and blue. As the name implies, it will give anyone a seizure of looked at directly. However, it seems to have no effect on stronger enemies, as it had no effect on Goku.
When used, the song "Sandstorm", by Darude plays.